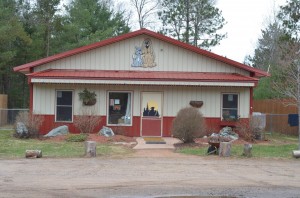 Thank you for your interest in the Humane Society of Vilas County! We are a small, nonprofit 501(c)(3) animal welfare organization located just outside Eagle River, Wisconsin. We serve the people and pets of Vilas County, helping to rescue and rehome cats, kittens, dogs, puppies, small animals and reptiles.
We offer pets for adoption to loving homes; can refer the public to low-cost spay and neuter services; offer frequent vaccination clinics; and offer other assistance for animals in need, including stray animals.
A huge thank you to our amazing volunteers for helping us help animals, and to our surrounding communities who support our fundraising efforts – we could not do our lifesaving work without your support!
The Humane Society of Vilas County is located on Hwy. 45 North between Conover and Eagle River. We are open Monday, Tuesday, Thursday and Friday from 11am-4pm and Saturday from 11am-2pm. We are closed on Wednesdays, Sundays, and holidays.
Mission Statement
The Humane Society of Vilas County is a non-profit 501c3 organization, dedicated to the welfare and humane treatment of Vilas County animals.
History
The Humane Society of Vilas County, formerly the Vilas County Humane Society began in approximately 1959. Although details are sketchy, Dr. E. Francine Gough was able to recall that Bea Treutel was probably the organizer and driving force of the society at that time. She was aided by Joyce Larkin, and together, they owned the local newspaper, The News Review. Bea lived on the farm on Highway 70 (Eagle River) now owned by Pete Jovanovic, and provided cages in her bam for stray and unwanted dogs. For a time, Elaine Enlow, who owned and operated a local Dog Boarding Kennel, housed strays when necessary. And did so until her death. The shed at the Eagle River City Shops was then used, with Wesley LaCrosse acting as caretaker. Later, Jan Bacic was appointed as the caretaker, along with her husband Carl, and her son Jerry Block, Sometime after that the society received a bequest, which enabled them to remodel the shed, adding kennels, heat and hot water. Much of the remodel work, and the maintenance, was done by Carl Bacic. Some of these records still exist.
When Jan retired from the animal shelter she gave the humane society checkbook to Dusty Leet, as she had been hired by the Vilas County Public Health Committee, to be the "Animal Shelter Agent". Dusty started the current Humane Society of Vilas County with it. The first President for this charter was John Anderson. The board at that time also included Kathy Oatman, Dusty Leet, Jane Powell, Dr. Francine Gough, JoAnne Casey, and Rusty Williams. The Society is a 501 (c) 3 Non Profit Organization, dedicated to Animal Welfare Issues.
WE RESERVE THE RIGHT TO REFUSE MEMBERSHIP TO PEOPLE WHO DO NOT SUPPORT OUR MISSION STATEMENT, WHO HAVE A HISTORY OR ANIMAL ABUSE OR NEGLECT, AND WHO DO NOT SUPPORT OUR GOAL OF BEING THE SOUL ENTITY CHARGED WITH RUNNING THE ANIMAL SHELTER IN VILAS COUNTY. THE HUMANE SOCIETY OF VILAS COUNTY IS A NOT-FOR-PROFIT 501c3 CHARITABLE ORGANIZATION. WE ARE NOT AFFILIATED WITH THE COUNTY GOVERNMENT, PETA, THE HUMANE SOCIETY OF THE UNITED STATES, OR ANY OTHER HUMANE ORGANIZATIONS. WE DO NOT OPPOSE HUNTING OR TRAPPING, OR THE HUMANE HARVEST OF GAME BIRDS, ANIMALS, OR FISH BY LAWFUL MEANS.